Ride and Seek… Found What We Were Looking For.
If the lower island isn't already a great place to ride, we have a riding club working hard to make it even better.
This past Ride and Seek event was a great time. A day that encouraged us to explore our local routes in a new way, and with a fun purpose. Challenging our imaginations and knowledge of our favourite home routes. Work on it as a team or venture off on your own. To get them all would be impossible, but a fun challenge to get as many as you possibly can. All you had to do was ride hard all day…
For those that don't know the event was organized by our admins from the LIRC. 1 day, 30 photos of specific destinations from all over the lower island, posted in the morning. Ride out and take a photo of your own bike at the spot and get a point. Ties sorted with a slow race. The winner get first choice at a table of prizes donated a list of some awesome local businesses… and bragging rights… did I mention we won… Oh Ya We Did!!
It was a great start to a day up at the IMC in Langford with some bikes to drool over and some egg sandwiches to force down... JK, they were good and so was the coffee, Thanks to Tom, Mike and the crew. With the event quickly on its way there was a flurry of folks phone staring across the parking lot as people checked out the posted photos.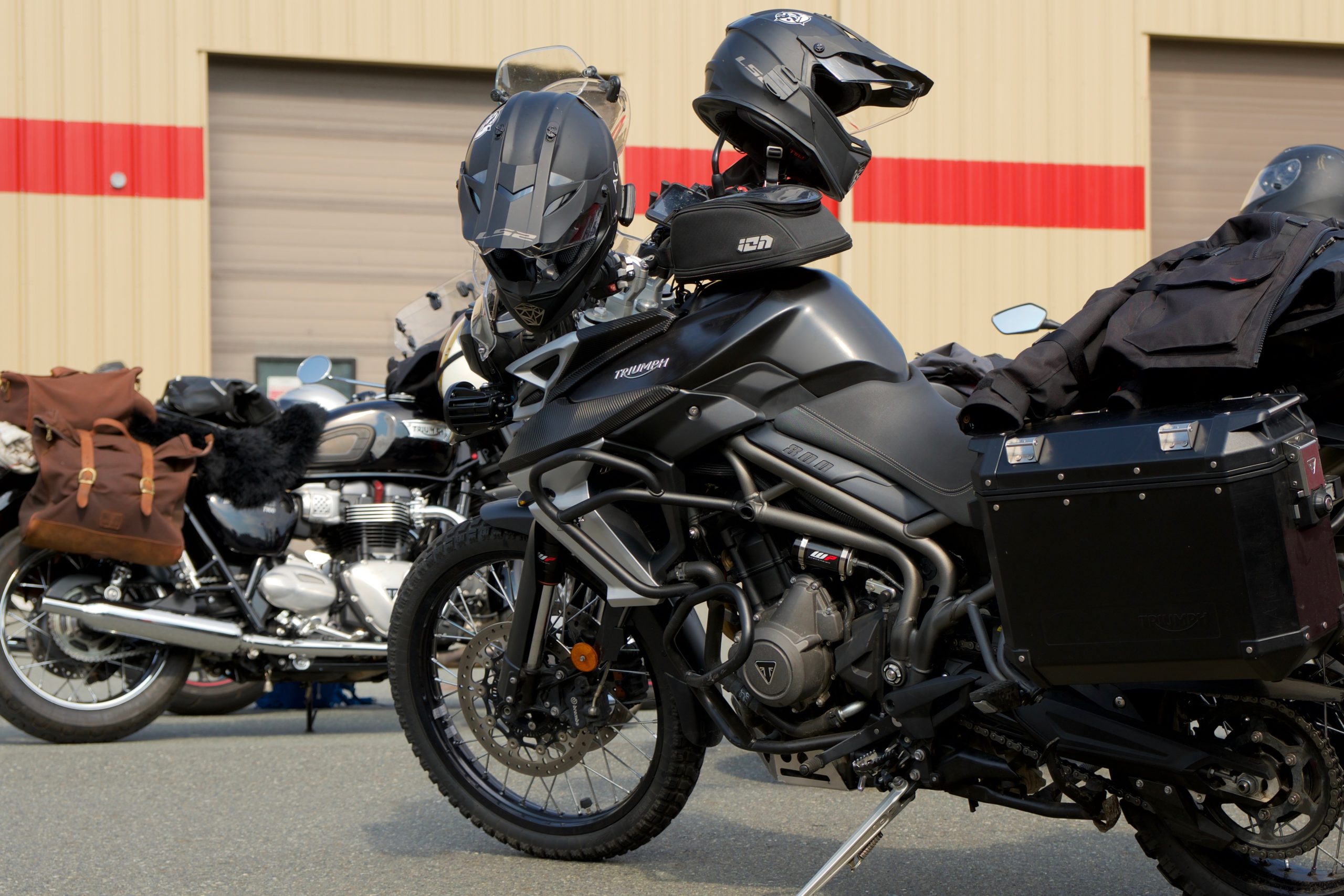 Many headed off and others formed alliances. Us being stumped at almost every photo wondered around to chat to a few about ideas. Realizing quite quickly how horrible I am with names, the directions and road names floated straight past me like I already had ear plugs in. Screw it! I grabbed Aaron and we decided on a few close ones was a good place to start. We already had a few favourite roads in mind to take a good morning rip on, so good enough for us. Humpback road, Kangaroo to Lindholm. Got to the Happy Valley, then realized one of the photo was at the other end. Oh dam, have to turn around and ride it again… this day was filled with stuff like this, and that made it even better.
Swung back to the IMC to sneak a peak at the new Triumph, but too early. Damn it, a burger will do I guess, thanks for lunch too.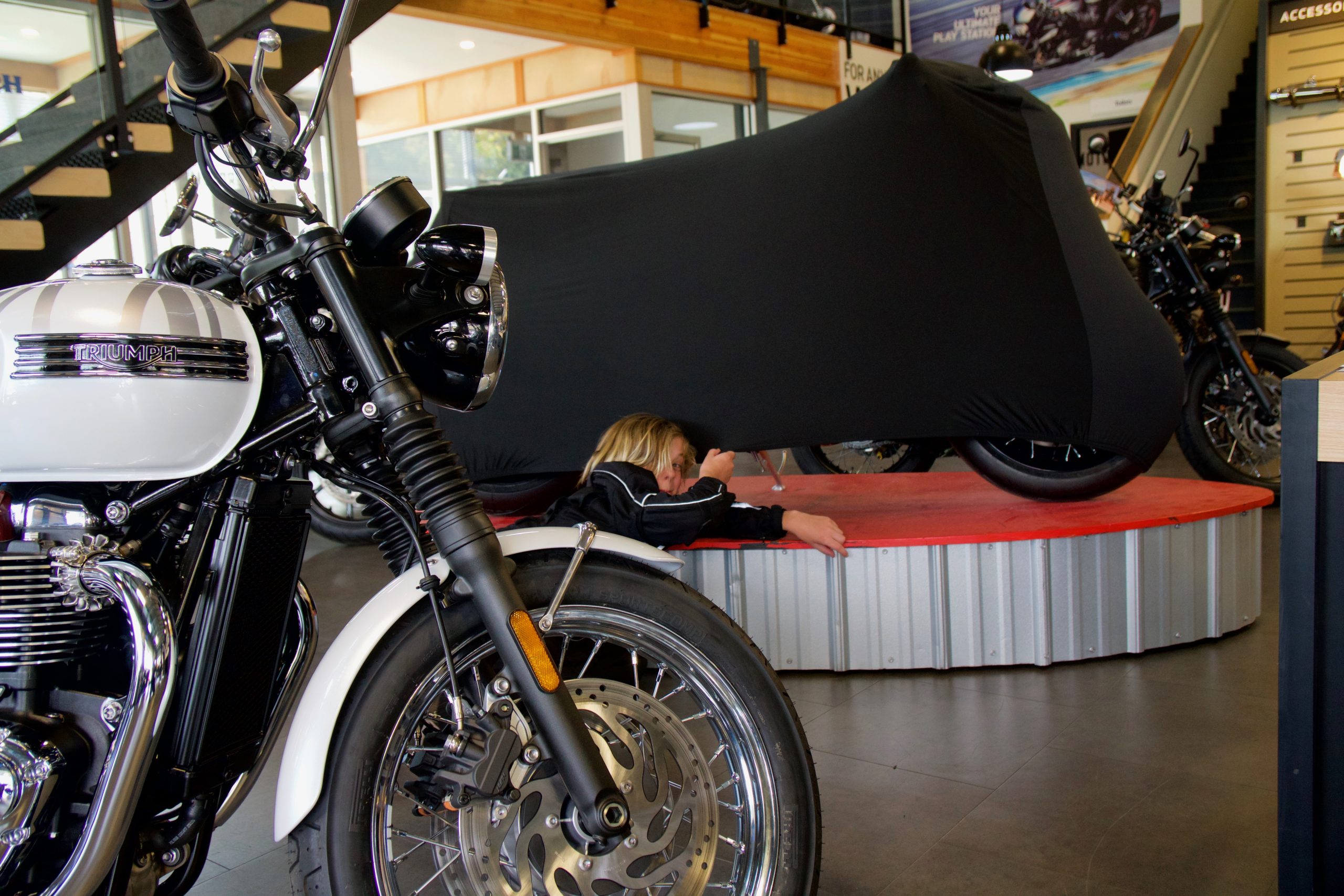 Every stop we would start to realize where another one could be, or, see another rider and swap a known location. A realization of how crafty the admins were with linking the spots to send you down some of the curviest roads to ride. Stopping only to take a photo we were totally happy to just keep on keepin on. On the bike all day is a good day. A small adventure started to form as we planned a route across the lower island to Lands End Road. After meeting up with another group and swapping another location it was down to Oak Bay where Aaron could scan for locations like only a passenger can do. He was really my secret weapon, I barely got any without him. The last one by the Victoria harbour where the photos were posted and we hung out feeling pretty pleased with this unique way to tour the island, but pretty certain the group players found more than we did.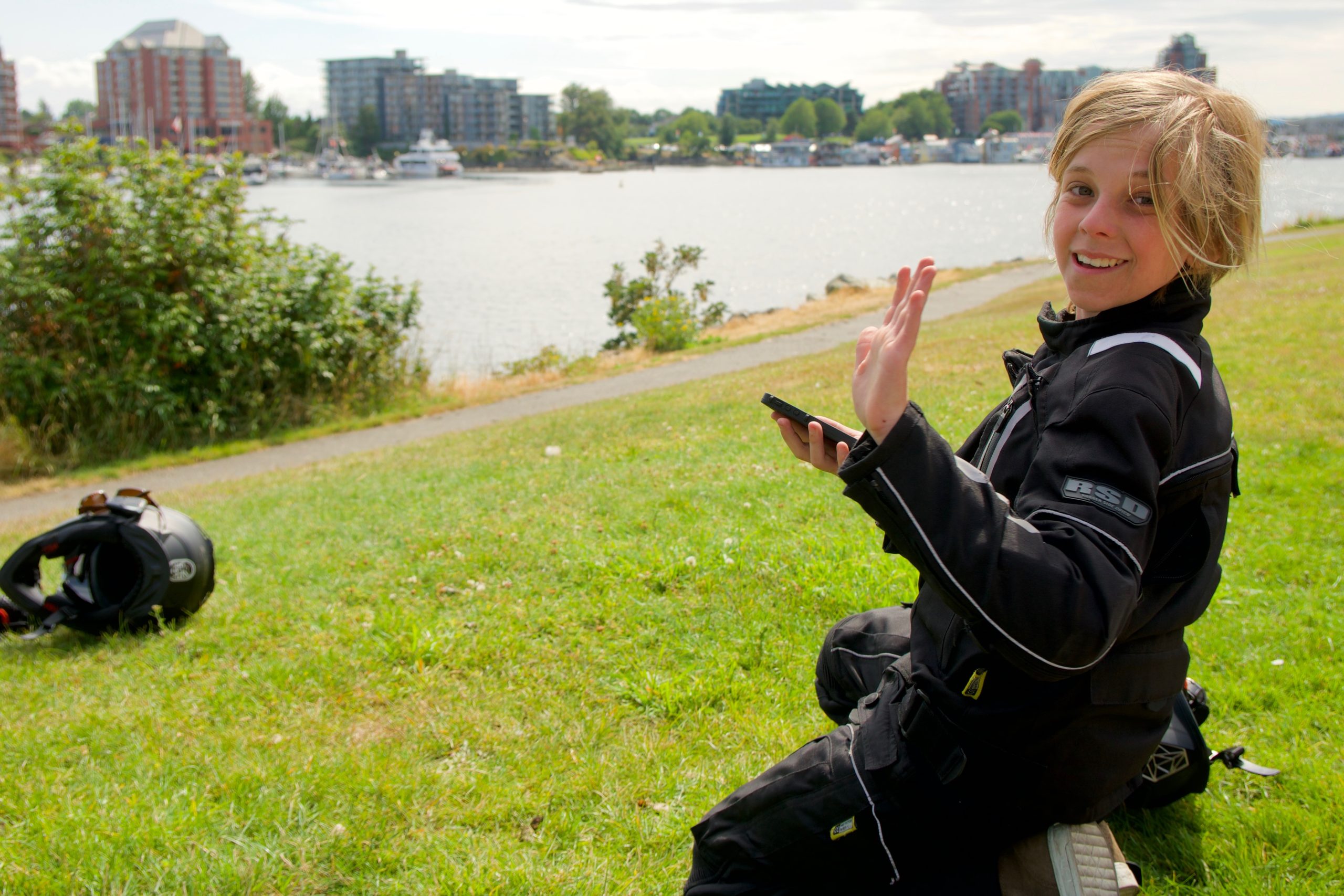 Meeting back with the group at Weavers up in Langford, it was nice to chat with the folks we had seen zipping around out there with their cellphone cameras. Everyone seemed to have just a good of time as we did spending the day out on the bikes. Learning of all the ones we missed we were pretty stoked to see we were in the top two and needed to pull off a slow ride competition to win, two up. Never tried that. Aarons a good co-pilot however, nice and still, so easy peasy. He was super charged to get in first. It was a cool way to end the day for the little dude. Looking forward to a dinner out at Buckys Taphouse on Simon, and I am pretty sure Aaron will still be wearing his jersey from SG Power.
This event was free. Put together from people driven by the passion for this stuff. They bring together our community of people who share this common understanding of what the motorcycle is good for. Riding and bringing on great experiences. Huge thanks for the LIRC for working hard to bring us together to do that.