Rain Forrest Rain for our Big Trees Ride.
Setting out on another ride in the bush with our local LIRC.
I mistakenly took on yet another ride hosted by Mr. Chong… I say this, but each time I understand how to ride and prepare for a day a little better, and always glad I got off my ass to do it. Gluttons for punishment I suppose, about 17 island riders showed up on this moist mossy day of moto mountain meandering (Man, thats good… ;). Labeled as a novice ride, and most of it was, It really would have been, if not for the down pour.

Setting off from Sooke (west coast Vancouver Island) we all get to settle in to the moisture below our tires as the familiar twisty route takes us north to Port Renfrew. Lightly raining, I can recall saying "light rain, heavy rain… whats the difference when your all suited up…". Now that was a dumb thing to say. Shortly afterwards we were hit with what could have been measured in a "gallons per minute" downpour. I found the streams of water trying to find its way into any possible opening. Held at bay by my Revit interior rain liner, however the suit still wears the weight of water in the shell, and the cold. Important preparedness note, when expecting heavy rain, wear an outer rain shell. Heavy winter, water proof..ish gloves were a write off in the first 20 minutes and so I choose wet summer gloves with good bar and control feeling instead. Please some one tell me where to find some small fitting, actually water proof gloves.
Hardly enough to slow the group down, we only lost a couple riders to the weather on our way up to the FSR's. I believe only two things made this ride more difficult than it actually was and you guessed it, it had to do with the rain.
One. Burning down the gravel roads traction was no more challenging than on a normal day. Sloped shoulders, bigger rocks, pot holes and deep rough gravel patches were all there just as they were before. Only trouble is… you can't see the damn things! All visors and goggles lifted out of the way, they were no different than trying to see through a steamy shower door. Now try to ride like that "Forget it". Large droplets constantly pelting us in the face at 60 kph… or so. You squint to catch the road changes as best as you can. Burning, or should I say, flowing through the faster sections in the worst of the rain, we made it past Avatar Grove to the Lonely Doug. The second larges Fir tree in Canada standing at 226 feet tall. All thats left in a field of clear cut forrest, thanks to a logger none the less. Good job dude.

Standing at the large tree, I wondered what our friend Kenith was thinking as he looked so desperately into the sky… Must have been something like… "Please, Oh please God. Just stop raining. I promise I'll stop subjecting the good people to those inferior BMW bikes and only sell quality machines like this fine Triumph Tiger beside me. JUST STOP RAINING!" Probably something like that… JK. You should have seen the way this guy ripped around on his F850GS. Like a boss. And it is a pretty sweet bike. I kinda liked that KTM as well.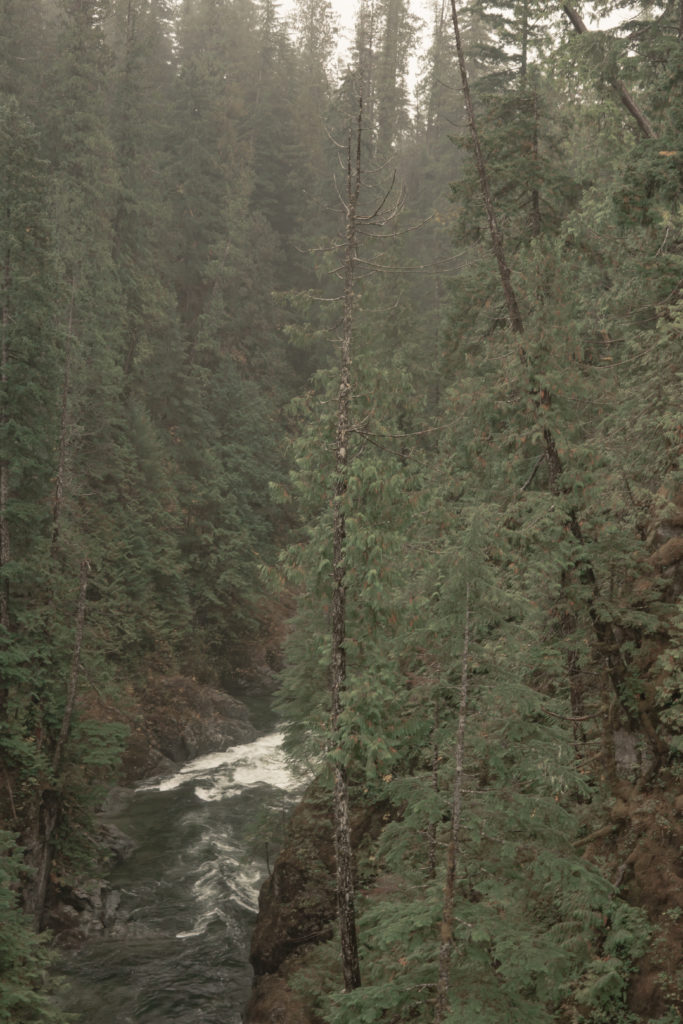 Onward to more heavily flowing water and a specific trail chosen by our Mr. Chong. Of course it became the biggest challenge of the day. This brings me to moist challenge number 2. Superiorly saturated soil. Scouting this trail weeks before during dry weather, this trail would have been real novice. Now give it a week and dump a lake on the trail, it becomes much different. A very under traveled trail, grass lays generally untouched upon the soft slimy soil. Likely more difficult for the heavy bike riders, the feet stay firmly planted on the pegs and ass high off the seat, leaving your helmet to be constantly raked by the heavily over grown branches. Quickly getting use to the dance of maintaining balance, gentle clutch control and the dodge game with the trees we made our way to the slippery rotten bridge and certain death. Having your tires shift into rotten crevasses of the mossy deck boards can be an unnerving experience with the only decent path right next to the foot high rail and a 15 foot drop. No casualties however and was a quick zip across for most.

This lead us to our second leg of mossy bush whacking, this time add a slight incline and maybe a half dozen small creeks. Again, likely more difficult for the big bikes, this took focus, intense focus that seemed to go on for 20 minutes, but was likely shorter. There was no photos taken of this section because there was no way you could stop. Gentle throttle control to the rear EO-7 was all you could do to keep momentum or risk sinking into a mushy hole. Creek after small creek you drop in and quickly power out between the bigger rocks. You do not want to stall here. In small sections this was nothing, however I found it was the focus of the riding that was the challenge. Constant clutch control with the easing of power, balance slip and balance, pick your line… "Now Focus!" "THWACK" "DAMN IT". Ya, and dodge the branches. Through the next little creek and repeat. A testament to the EO-7's. Including myself, three of the five heavy bikes were running the Mitas tires and we were all really pleased with the the dirt capability these things claim to have. Reliably proving them selves on days like today. (The one bushy photo below was the exit to this entertaining detour.)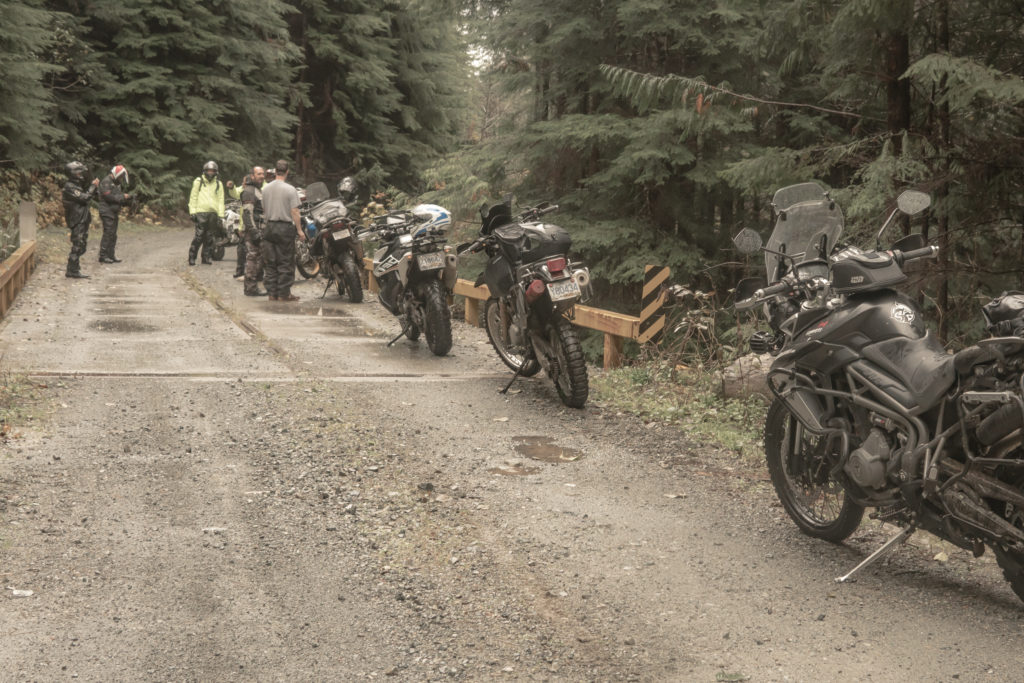 The ride continued. However my photos did not. With every cloth saturated, the foggy dripping lens became unusable. Catching the moment of a blurry blue sky, the weather briefly teased us with sunlight. But only long enough for us to decide on keeping the ride going and tackle another trail to what could lead to a pretty sweet view. Paved road sections leading to the sought after trail, this was a fun one with a lot of inclines and faster trail sections. With a couple 4X4's as almost roadblocks on the tight roads we made it to the epic view…I am sure it was a great one if we hadn't ridden up into the clouds. Great idea Mr. Chong… no, really, great idea. This was a good day.