Prepping the Bike – Dressing for the Roll
If you had the opportunity to make your bike any colour you like would you change it?
For us the answer was easy. Why not, seems like fun, and we were far to used to having a black beast to ride on. So that was the goal. Design a wrap and decal job to make the bike feel like ours and really look SpawnAdventures.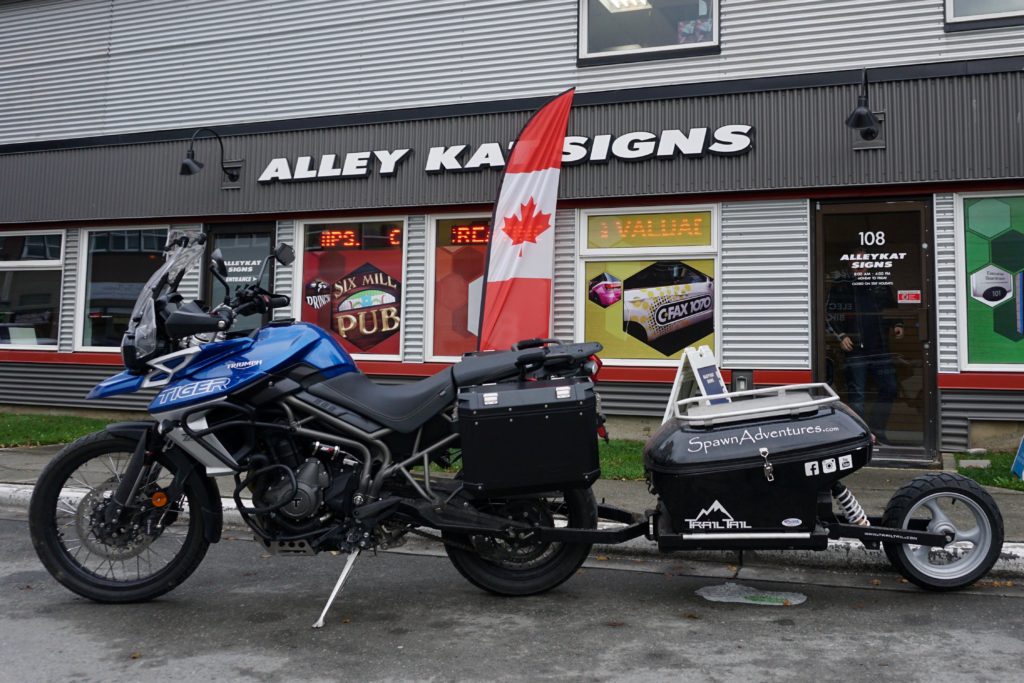 Heading back to where it started, we visited our friends at AlleyKat Signs. A great guy to work with, John (the owner) welcomed us in again and offered to assist us on our new project. As a previous rider of a Triumph Tiger himself I believe he was also a little excited to work on the sweet new 2018. I am especially happy to see the work being done by John and his son Chase. Thats exactly what SpawnAdventures is all about.
From blue to satin black. Black carbon fibre accents and some subtile logos in there. A pretty bad ass base for our logos and those of the awesome folks that have offered to help our project and get it rolling. AlleyKat Signs did a great job realizing our vision. Using Avery Dennison wrap material and knife-less tape they were able to really achieve clean lines and smooth strong bonding to the body.
Prepping the surface is key and a good cleaning with the right products did the trick. The rest was skillful handling of the the wrap material. Stretching, heating and placing on the surface. Using the tools for the job to gently squeeze out the air pockets and ensuring a smooth finish. The best trick was the use of the knife-less tape. Placing the cut line precisely and cutting the material from below with a thin wire in the tape is sure a slick way to make cuts without risk to the paint surface. Overlap where needed and tuck in the edges. A nice and tidy job on a tricky curvy tank. Protecting the paint and easily removable without damage to the original surface. Kind of a killer way to customize anything really.
Taking the time to design the trailer wrap to blend well with the bike we made attempts to match details of the bike. Aaron and I spent a lot of time marking it off and dreaming a little bigger this time around. It really is a pretty cool creative project to work on together. AlleyKat did the install however, proper install can be tricky business. And they did a perfect job. Matching our lines exactly, they were able to get the giant stickers perfectly smooth and trimmed to the lines, perfect seams. It was really nicely done.
Special thanks to AlleyKat for working hard and help us create our unique Moto Adventure Machine. We are very proud and can't wait to get our name on it. Decals to come shortly.