Part 3 – The Industrial Park Vacation
A Journey With An Old Friend and His New Licence.
A multi part story of a BC experience with the Triumph Tiger and a Royal Enfield Himalayan, and a TrailTail Trailer.
Loaded up. Expecting the unexpected I thought I was ready for what ever. Enough anticipation, let the fate of the real trip… just happen. I'm OK with crappy weather, a change of plans and alternate routes or mechanical "Oh, crap" moments. We can figure it out. Finding a forrest spot where ever to camp and sleep for the night, sure. I don't like to camp next to a city so if thats where we end up on a late day of riding, a hotel is good too. Just don't end the adventure early.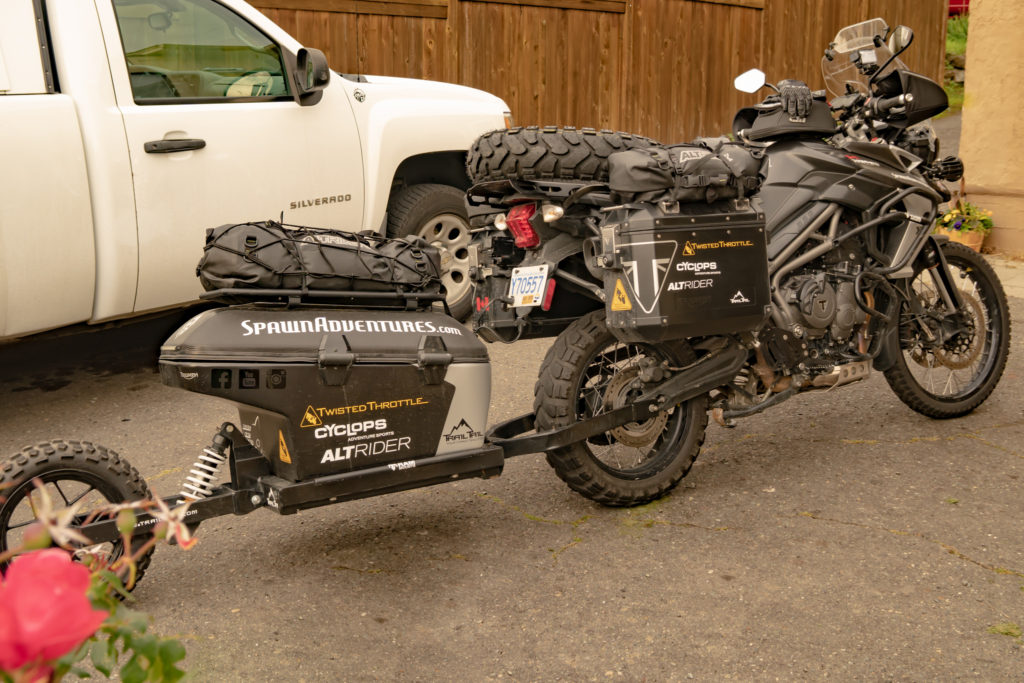 Heading out to meet my buddy again who's now carrying a lot more skill with his bike than I would expect from a new rider, I wondered if his ability for handling fall Moto adventure traveling was equally keen. Will see.  Like always, for me it usually begins with a ferry ride off the island.  
Work Before Play. A short detour first, then were off!
Leaving a few days early, I hurried away from regular work with not even enough time to have the new Mitas rear installed. Likely partially due to my frugalness, the decision was to have it installed after the lengthy highway sections known for leaving you with corner trashing ledges (aka. A flat spot). I'll happily subject the remaining tread of my old EO7's to their last brutalizing highway ride before swapping to new meats just before the dirt. Always got time for Tim Hortons… but not enough to meander, the direct highway route to Kelowna was the only option.
The cool air, ominous clouds and yellow leaves was a constant reminder that summer is definitely over, however a quick stop to layer up and your problems are solved. A lot easier to warm up then it is to cool down and the scenery is stunning in fall. Definitely my favourite season to ride. 
The plan was to take the Trailtail trailer back to the factory. Show its creator some changes we've made, and get to work in his machine shop to add a couple more. With my reasonable skills building things, I had a couple small projects I am sure his knowledgable crew and proper equipment would help make quick work of it. With a late arrival and a comfortable night in the owners small cabin it was a pretty relaxed morning getting started the next day. 
Creating a custom spacer for the trailer hook up was job number one. Many bikes only need the supplied spacer to be cut down to size, however, with the inside diameter of my axle being larger on the right side, shaping the nylon cylinder to slip inside would remove any movement.  More solid, more better.  Giving also the 3/4" offset needed to properly align the trailer to the Tiger, this "turned" into simple task… Thanks to John with the help handling the lathe. 
Job number 2. "HEADS UP!" Tired of looking down to my phone activity or GPS, the bike needed an upper bar for attaching a RAM mount. I never use the top position to my adjustable windscreen so I had an idea. Cut up some aluminum, bend it up, weld it together. Problem solved, and sweet new mounting position was born. A little powder coating to finish er' off later. (I might end up making a few more of these for a couple friends, If anyone is interested in one send me a message and I'll make a bigger batch.)
Number 3 was a powerful trailer mod… I need a power supply back there. The ever evolving idea. We needed a way to power interior and exterior lights, charge batteries and mount the handy Pelican packs I built to carry the power supply and cameras/drone charging systems. A simple housing for mounting switches and hide the wiring. A utility piece as opposed to anything flashy, it was all about minimal weight and functionality. When bonded in place and cleaned up a little it should be a useful spot back there. Organizing things better and giving light to dark roadside stops. (Will show you the final results later.)
I call this work but it sure didn't feel that way. More like an industrial park vacation.  Playing around in a pro creators workshop. Get an idea and build it. It's fun stuff.  Next, the real vacation begins, time to get mountain meandering, time to play.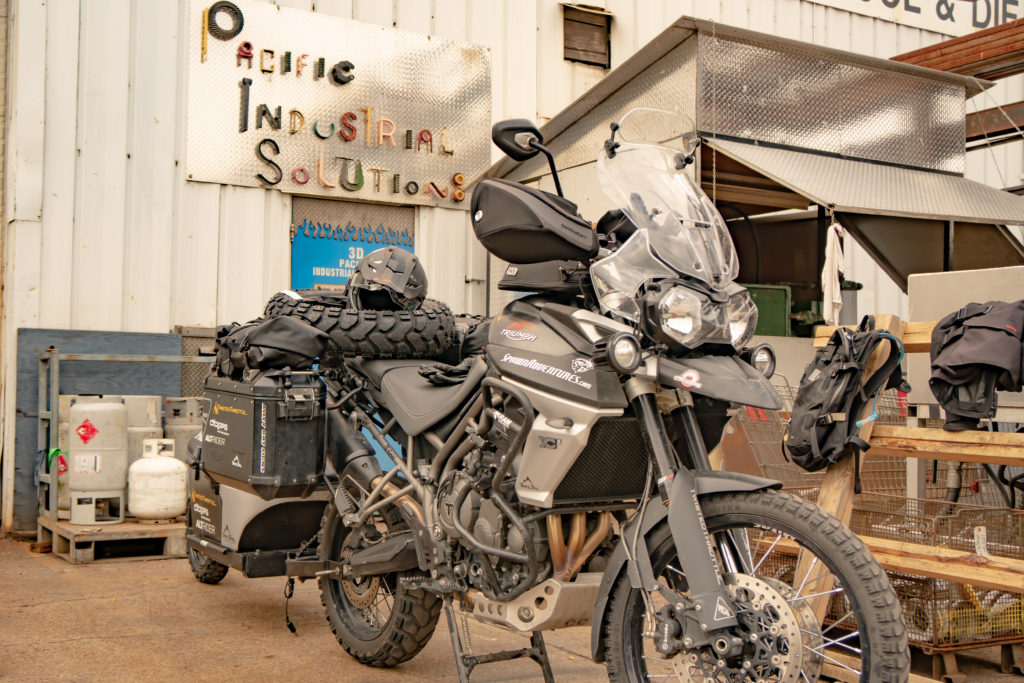 Up to Kamloops to meet with my buddy Curt, decide on a final direction and take any route but a highway. BC is a killer back yard.  With the anticipation for a trip like this spanning years, it's needless to say that I was pretty excited.  Heading north after finishing the last project at the TrailTail factory in Kelowna I had to avoid the twisty indirect roads again.  With the following several day's only purpose was to ride as many secluded off road tracks and unknown back roads, this was fine, very fine. 
With a late evening going over maps and weather forecasts, adapting to a change in plans was pretty much immediate… To be continued.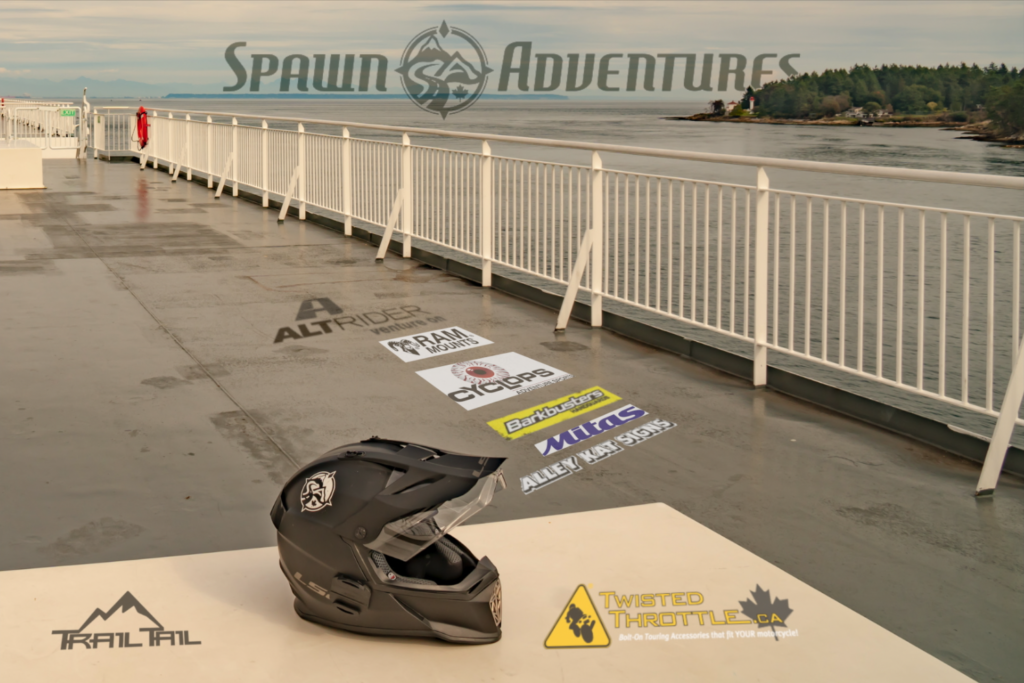 Huge thanks to Friso (Owner of Pacific Industrial Solutions and creator of TrailTail Trailers.) and especially John who added the pro skills to better complete my simple ideas.