A Journey With An Old Friend and His New Licence.
A multi part story of a BC experience with the Triumph Tiger and a Royal Enfield Himalayan.
With my old friend recently purchasing his first bike, he'd put some K's on it, and we took the bikes out together and tested his skills in the bush. Oh boy was I ready for this… but was he? When you take a guy that has some serious snowmobile experience, ridden quads a bit in the past, but has no real experience with a motorcycle, what happens when you take him offload? This was a day where we found out.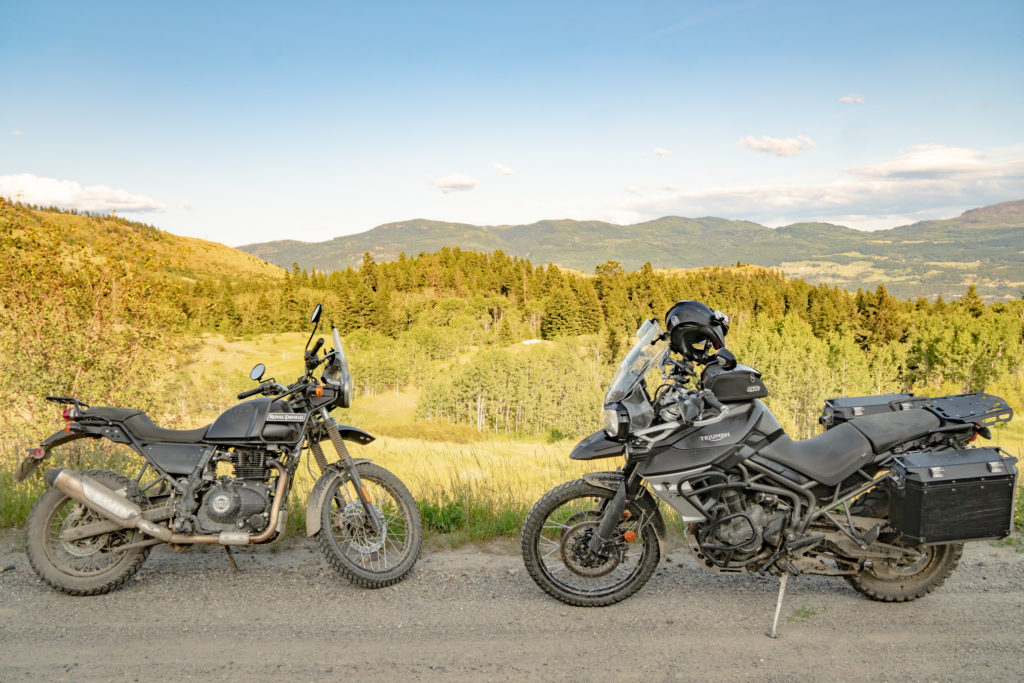 While my friend Curt had been riding the Himalayan a ton since I saw him last, he was still a new rider. His confidence with the thing was growing fast, however, before any lengthy backroad trip could ever begin a good day out in the bush was needed to see how he felt with marbles and grease under the wheels. Properly suited in his pristine riding gear, he stood looking good, but very green. Like a brand new tool belt on a job site, the super clean equipment often identifies the rookies with their newly purchased job site tool requirements. With us both having a history in construction we laughed as we thought to roll him around in the dirt first off…
Heading out to the mountains on the North side of Kamloops, B.C. the well maintained gravel roads were an easy break in for the days riding.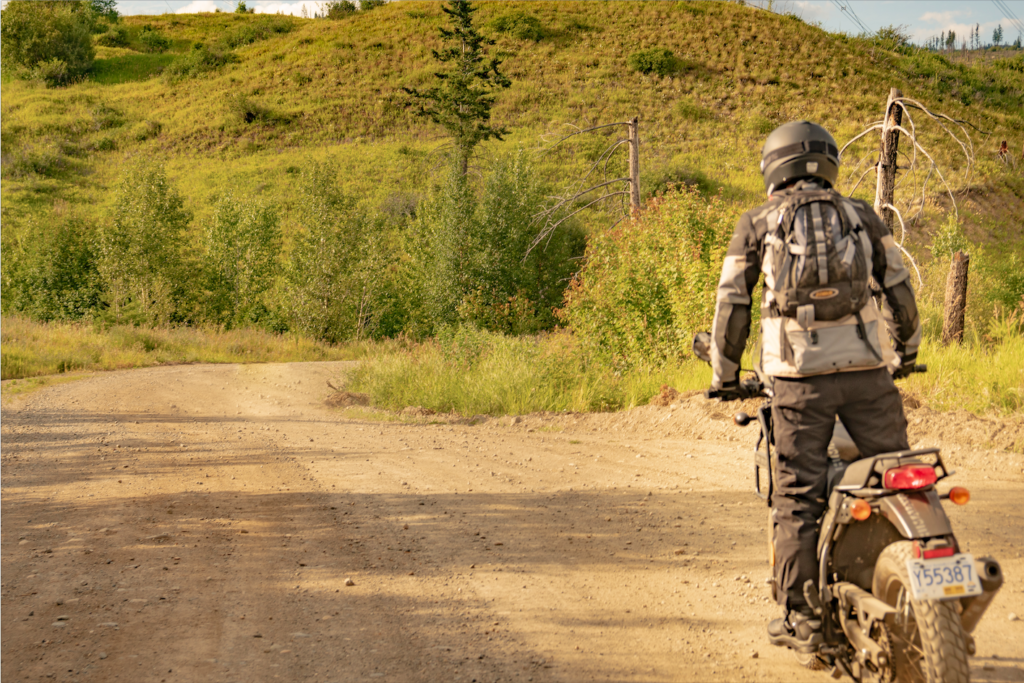 With out knowing the routes in the area, we used the mostly reliable web of trails found on the BRMB (Back Road Maps Books) Phone GPS app. The only trouble was you never really know the age of the line on the map, or weather it crosses on to private property. Bigger lines had more success getting through, smaller lines… well, you will find out when you get there. However… thats all part of the adventure. Meandering to unknown paths was the plan from the beginning anyway.
Making our way to tighter overgrown trails I was happy to see my buddy had a natural "Just Give'er" approach to almost everything we came across. From our history with off-road with trucks, nothing is worse than making your way up a trail only to have someone tuck tail and turn around when the trail gets a little tough or branches a little tight. We use to do that together too, and while our trucks back then were a little rough anyway I think we both still carry that same mentality, even with new bikes.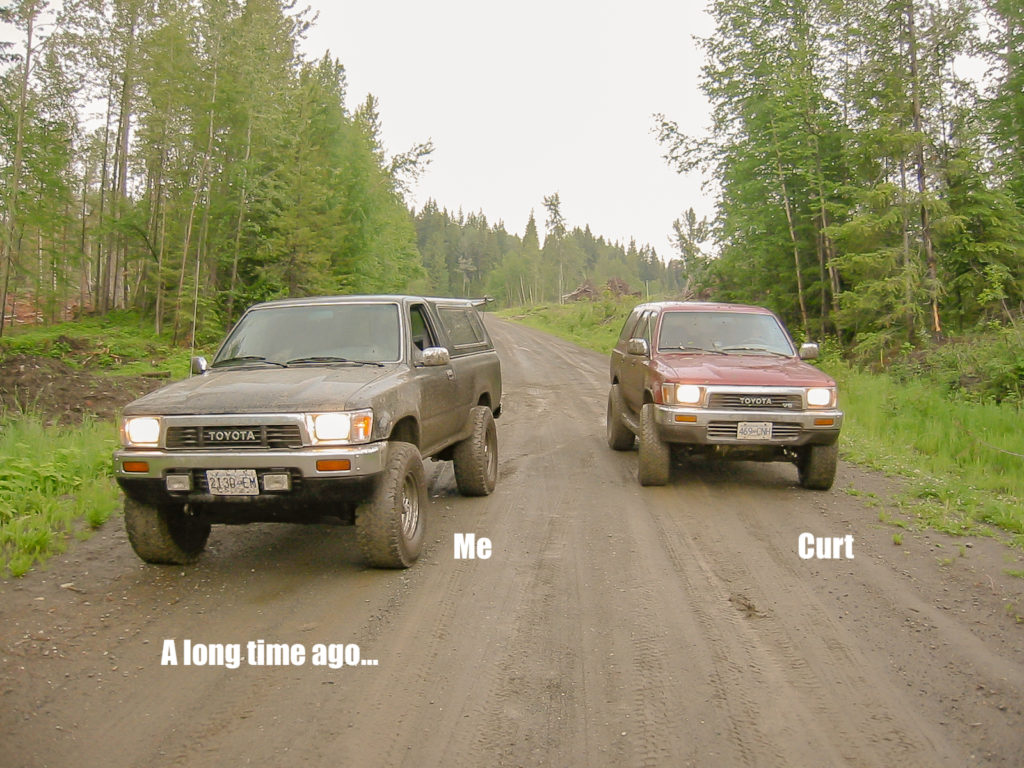 Worrying about things too much kills the fun, just be reasonably safe and keep'er going. Through to some remote lakes and beautiful back road views, this was riding in perfect conditions. 
Making our way onto the back side of SunPeaks ski resort, we rode through the dried up ski runs over to the lodge for lunch. Filthy dusty and sweaty we fit right in with the resort housing a mountain bike haven for the down hill thrill seekers.
A nice lunch looking over maps, choosing another unknown line on the map. It seemed to connect and so we were off. Keep a positive mind and don't worry too much if the road may not go through. There is often a good solution and fun adventure right around the corner. It just might happen to be though that bush, over that grassy hill or in that creek. Riding on we found some great unknown routes and a couple dead ends. No trespassing signs being the worst of the problems. I wish there were motorcycle only, tread lightly and pass quietly rules, I would respect that. The blocked roads were often short connectors to Fire Service roads and a real shame to not have a right to cross the vacant land.
Inspiration for further away locations, days like this keep you wanting more. While I think I will always keep a faster pace than my Himalayan friend, I'll have to learn to adjust for that. Having a good time out there will always depend on your attitude towards a lot of things. Handling patience is one of them. Still working on that. Forget what your use to and accept it, friendships will last longer that way.
With out a doubt he was ready. Taking a multi day highway dodging trek around B.C. together was finally in the works. With no patience to wait till next spring we cleared work out of the way and set the date. The only way to make something happen is to get off your ass and do it. This is what lead us to our recent fall/winter riding trip. Through the back roads to the KVR (Kettle Vally Railway) Trail. An old railway path that spans vast areas across B.C. linking towns, lakes and back roads, a great gravel route off the speedy highway arteries. We took sections of this across part of the province to back roads and long gravel mountain Valley roads to the town of Nakusp, before looping back west to Kamloops.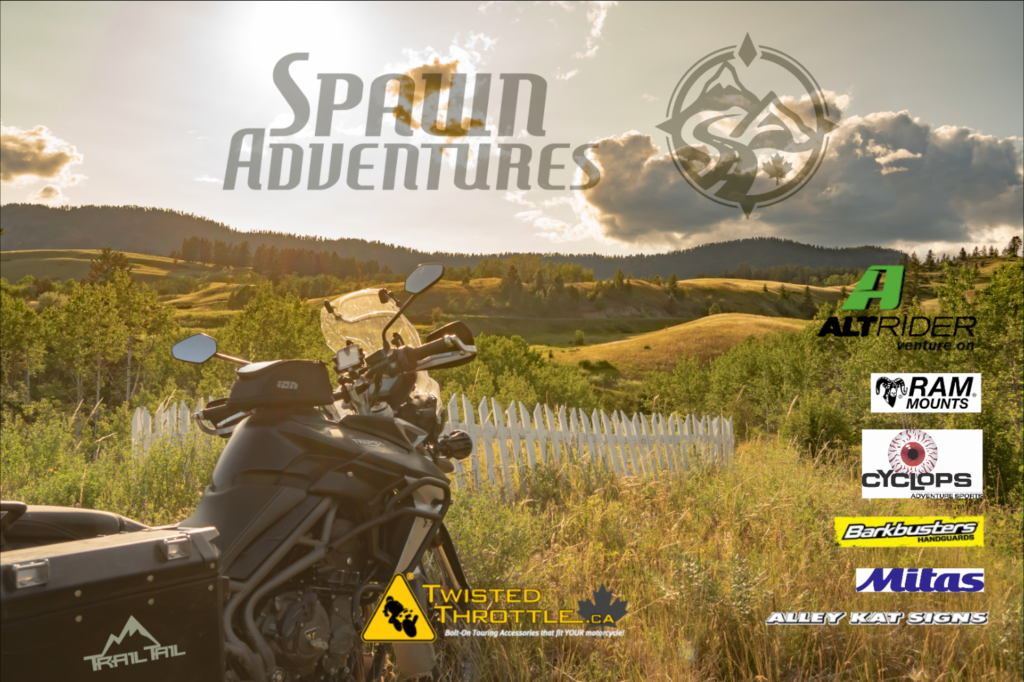 Loaded up. Expecting the unexpected I thought I was ready for what ever. Enough anticipation, let the fate of the real trip… just happen… To be continued.