LIRC Volcano Tour – Day 4
Uncertain and unplanned. This day was about "just going for it". Adventures usually start this way.
"Drip drip drip". By no means dampening the riding spirit, the morning started early with the moist smells of the forest dominating the air. Sweeping the droplets of the seats to get ready, I took my adventurous friend's suggestion and we fired up the bikes for an early ride up the mountain to Paradise before breakfast. With the fresh cool air blasting our suits and helmets, the dense fog multiplied the danger as it hangs in the air, sticks to our visors and coats the road.
Nervously, I constantly checked my mirrors as I throttled out of every tight corner wondering if I'll witness the headlight behind me strike the road and flicker into the bushes. Thankfully her good judgment prevailed and we made it to the top of the mountain, above the clouds and still very alive. Safety is always a concern on a ride, fear will end the adventure and confidence and good judgement will get you through it.
With less than a year of riding experience, my Ninja riding friend Smruthi (Smu) experiences the passion for riding that many of us had found in our early riding years, and hope will never loose. With a respectable amount of kilometres, and a couple slow speed tip overs she found her confidence with her machine. Not very surprised to hear, the sport bike rider has very little wet weather or night riding experience…fearlessly, today was a day she would challenge herself!
Returning back to the busy cabin, an atmosphere of a large family vacation was everywhere. Quiet conversations over breakfast, a busy kitchen of the hungry or helpful, phone fondling folks in their silent solitude, and all the bathrooms were were full. Our decision was already made and it seemed like everyone else had their own idea for the day as well. A relaxing day at the cabin, solo exploration, a hike, or an early journey home in the most indirect route possible. We were looking for a long ride to some place cool… and so the lava caves of Mt. Saint Helens was the goal. I grabbed my DJ Pillion Pro and Ninja partners and hit the road.
Returning to the ravaged roads of the volcano we rode around the base to the other side. With a slight hesitation to take this road again, my co-pilot took trust in me to skillfully dodge the craters and not repeat the crotch kicking experience of bottoming out the rear suspension of previous days. We drifted through the forrest at a moderate speed, heavily restricted by the road conditions it was still very entertaining.
After riding our Tiger like a couple animals, we arrived at Ape Caves near the town of Cougar. Slipping down in to the lava caverns, our concerns of hiking in our riding suits subsided. Not much to say about the caves except they did turn out to be pretty cool, and very cold.
Beyond our subterranean experience the further meandering into unknown places continued. Looking on a map on the phone you see white lines everywhere. You tend to assume that the bold ones are paved and the smaller ones are likely not. So with this naive reasoning we decided to take a different route back, avoiding the suspension pounding route for one that might be gentler on our little Ninja. Heading towards Carson we aimed our sights on a more easterly route next to Mt Adams.
Burning along the unknown roads for quite some time, we found ourselves skidding to a stop as the road turned to solid gravel. Looking back in my mirror I saw what I had been dreading all morning. The image of headlights quickly turning to their side and slamming into the ground. There is always a moment of disbelief when someone goes down, then… are they ok? Then… "Shit! Are we stranded?" Can they ride still? Is the bike screwed? Luckily a bent shift lever was the only harm done. Thanks likely to her self taught crash training, she instinctively has the "Just Toss It" mentality if she's going down. This likely saved her leg and hands from getting crunched. "Nicely done Smu!" However, it looks like our easterly route was not going to happen. While not making it 10 feet into the gravel before trouble, it was quickly decided the Ninja and rider was not well suited for the miles of washboard roads ahead. I have to admit, I did look back in slight disappointment. Our Tiger could do these roads all day long and I definitely prefer the 50/50 life. But this was not worth the risk.
Taking the time to recharge, we found a snowmobile shelter to hide from the drizzle and I pulled out my caffeine machine. Hanging out and cooking up a few cups of espresso, I quietly thanked Santa Clause for answering my letter. I realize now that I may have accidentally overloaded everyones batteries instead of recharging them. Properly pumped back up we buzzed our way back through the mountain roads and back to the popular gas station in Randle.
With multiple routes to take back to the cabin, we had a few choices. Smruthi had an idea that mirrored my thoughts…Paradise. At this point it was getting close to 8pm, the sun was gone and the weather was looking kinda dark in several directions. With the group back at the cabin expecting most riders back around 7 for dinner, I asked Smu to be sure to message in and let them know were Ok and heading back soon. This was the only place with cell reception. Well…I don't know exactly what she said but… in the way she likes to write messages, we found out later that it came across on the other end sounding something like this. "I had an accident and my lights may not be working. Mike's lights are very bright. We are in Randle and heading back". That didn't paint a very clear picture of what we were really up too. The reality was…well…a little different, and should have said something like… "We are all pumped up on caffeine and having an awesome day! Awesome day! Did I say we are having an awesome day?! We don't really want it to stop. Aarons nuts are a little sore and we're taking the long route back over Mt. Rainier because it sounds like fun. The weather looks crap and its getting dark, but were going for it!"… This did turn out to be a fun experience, however for everyone back at the cabin the experience was less so. The kid the dad and Smu. Whats to worry?!!
Heading down the long road to the mountain, the photos became total crap but the night was actually… kinda good. Night riding is relaxing when you have really bright lights. There is usually very few cars, and the ones that are there, definitely see you, and you see them. So with cagers mostly out of the equation its just you, and the animals. LED lighting reflects amazingly and the second they look at you their biological warning beacons turn on… real bright. Looking in the photos below, there is one or several…total grainy photos but there is one with a glowing street sign. I regularly have to squint or turn off my high beams because the reflection of the signs can be so bright. Its like they have their high beams on, no kidding. We use Cyclops H4 LED headlights and 4" long range aux's if anyone is wondering. I love these things and regularly head out at night because of them. I'll throw a link in below for anyone interested. They will keep you safer and liking riding more, so I support this kind of stuff. Commercial break over.
Winding through the mountains in complete darkness is fun, its the damn fog that stresses you out. The brighter the lights the worst the view in this situation. There could have been a moose standing in the middle of the road and we wouldn't know until he was 20' in front of us. I am pretty sure Smu was just holding back hoping she doesn't hit what we do. The fog is only temporary and naturally after you drive into the clouds you will eventually drive out, and so we did. Pulled over and took a break. A creepy experience it is sitting still in the middle of nowhere with the sounds of the forrest and complete darkness all around you. How long can you hold up before someone says "Did you hear that? I think we should get going!" Ha ha, Its always funny.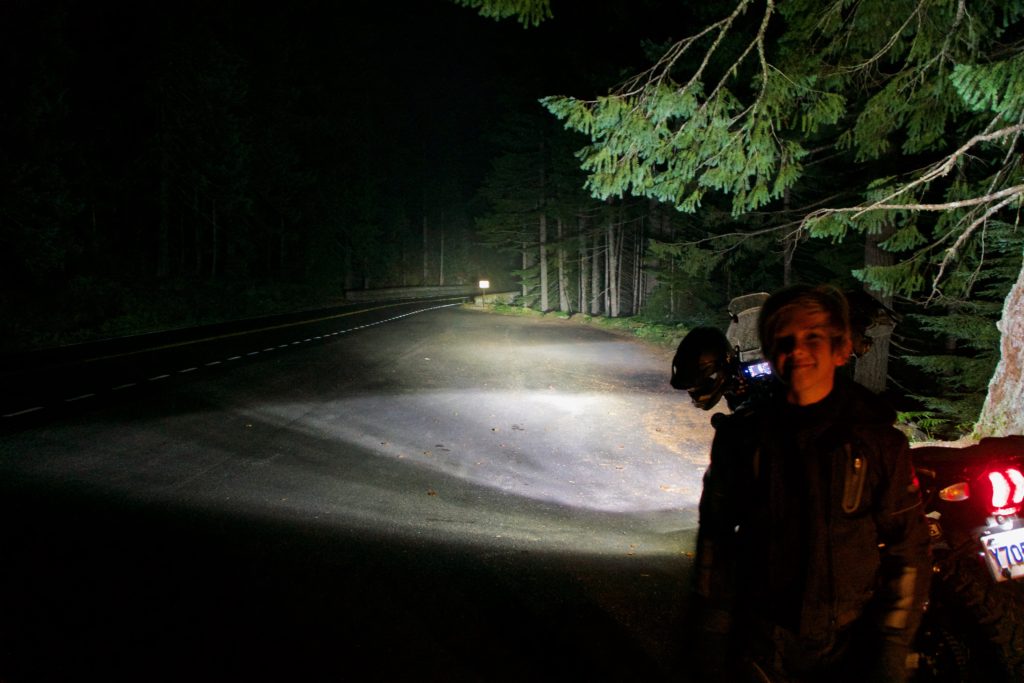 Winding our way to the bottom, the roads actually dried up and leaning on the final corners through the darkness added the last bit of excitement to the day….Well almost…until we got back to the cabin and had to face the worried and somewhat angry mob. Rolling in around 10:30pm. Sorry guys. In true LIRC fashion they were moments away from sending search vans out in multiple directions to find us. Great to know you're there for us, damn good riding club, and damn good people if you ask me.