A little sore and the bike is somehow not trashed. A tough day in the bush with some friends from the LIRC.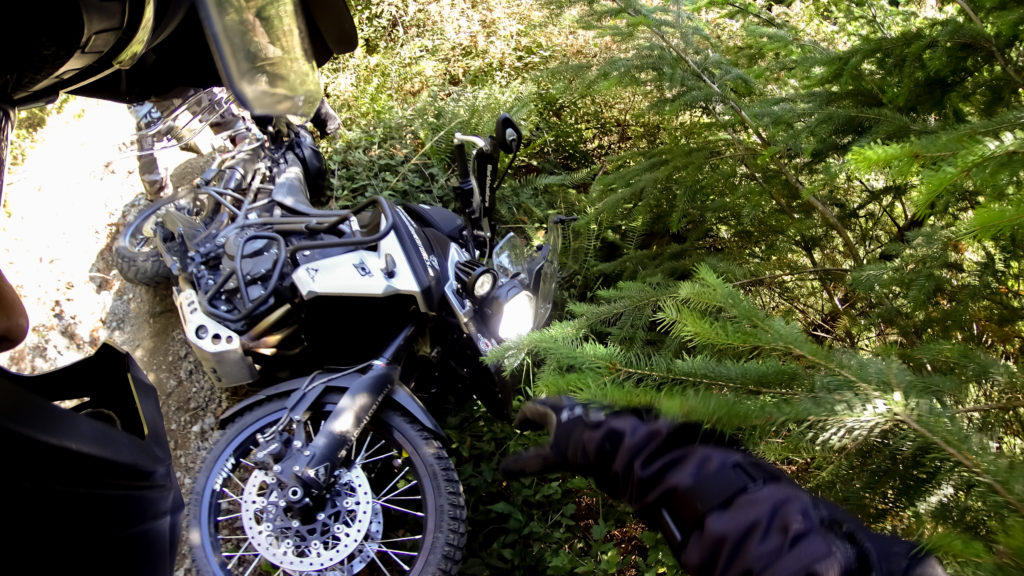 I can't recall any outing in the bush where I was actually satisfied with the ride going easy and uneventful. Part of the experience is supposed to be unexpected, challenging… an actual adventure. Half the time on the road and the other half searching for something more. These adventure bikes need to be able to live up to their name and on this day our Triumph Tiger XCX proved to be as capable as a dirt bike and as tough as the rocks I kept crashing her into… This was one of its toughest rides yet.

Responding to a FaceBook post on our riding clubs page I jumped on board for what was meant to be a leisurely day meandering through the forrest. Mr Chong gathered a group of about 14 riders of various skill levels to a Sunday mass in a forrest cathedral on our gas powered pews. Presenting us with a special opportunity for each one of us to grow from the days challenges, Mr Chong was only a tool of the almighty hand. Little did he even know the lessons of compassion, friendship, inner strength and your own limitations that were to be witnessed and experienced on this day. (Thanks by the way Chris, no one blames you)
Meet for a coffee and head to the woods. A string of light weight duel sports, a 650 VStrom, CB500X and the Tiger hit the highway. Short rip up to the dirt and orange obstacle number one (forestry gate) begins to set the tone for the day. Under for some, and around for others. Never a hesitation from anyone to lend a hand, making it an easy hurdle. Riding up the rarely traveled gravel roads they become gouged by rain water flow. Becoming small streams in high rainfall the crevasses in the road keep you choosing your path carefully. Not carefully enough for some, as I send my front tire right into the soft shoulder dropping on my side and saved from sliding off the small embankment thanks to some fast hands. "Oh Crap, help help!" and here I was thinking this was getting the dreaded drop of the day out of the way early. This was only number one.
"Ahh yes, this is good" On the pegs and zipping along the gravel roads, a very entertaining and relaxing way to spend a morning. Dodge the rocks and around the holes, stay out of the ruts and repeat. Get to a gate and go around, or maybe just check to see if its open… A brief break for some minor repairs, some first aid and a flat repair. Be resourceful, solve the problems and move on. Being prepared with some knowledge and basic tools, issues become handled within the time it takes for a coffee break.
DCIM/108MEDIA/DJI_0205.JPG
With various skill levels and various bikes each obstacle is an individual experience. A log is a simple throttle twist and hop to some, and a heart pumping bike bucking experience to others. It's important to respect each other for pushing their bikes and themselves beyond their own comfort zone, not how they stack up to top riders. We have all been there. However, even some logs will stop even the most skilled of rider in their tracks and those big damn sappy bastards can cause route changes of epic proportions. Let the adventure detour begin.
Tighter trails and single track forrest trekking, in my perspective its really fun on a big bike. Balance, shift your weight and stay on your pegs. Relying on your duel purpose tires and reasonable clutch skills its easy to find your confidence while weaving your way through the entertaining trails. When it turns steep, rocky and rooted is when things change a little, and it becomes all about sweat. So much sweat in your helmet like you dropped it in a creek.
Almost everybody began to sweat, before, during and after our first hill challenge of the day. It was awesome to see reflections of each others expressions in almost every helmet as they looked up at the hill beyond the small bridge. The very same one I must have had. Control your nerves, find your strength, focus and smile, the rest of us got your back. One by one everyone stepped up the plate and gave it their hardest swing.

No one knew what was around the bend. A few more trails leading to the mother of hills. The last one was a baby compared. With some sections resembling more of a rocky creek than a trail, it stretched up the hill in a very indirect fashion with each leg posing it's own challenges starting with under a tree, then through the washouts, around the stumps and dodge the roots "Give'er, give'er!". Up the bank an into the boulders, "keep on the throttle and try not to fall over!". Even our experienced riders on smaller duel sport experienced a challenge on this climb. A potential bike and rider breaking hill. Many took on the risky challenge while others accepted their limitations and wisely choose to have a more skilled and ballsy volunteer ride their bike to the top. And don't forget, I had to ride the damn 800 up that hill! That was tough, but the best part is every other trail seems like no big deal after that one, which means riding just got way more fun. Best lesson of the day.
The joint effort of this one hill amazed me, and really shows what a challenging hill it was. Everyone worked together to help us all up safely, and not everyone was even from our group! Several riders coming down the hill joined the effort. Pushing, pulling and even riding some bikes to the top. No complaints, just grins and strength. Much appreciated guys.
While the worst was behind us, the forest trails lead us to another hill that likely only troubled the dumb asses forgetting about their electronic rider modes (Ya, this was me.) A lesson learned to never forget to put the bike into "Offroad mode". It defaults to highway mode when the ignition is turned off (traction control and ABS fully on), I eyeballed what looked like a easy hill, started her up and took a run at it…I had it, it was easy… until the traction control kicked in and took away all the power half way up the hill. "OH !#*%". grabbing a fist full of front brake and not letting go of the clutch I slid down the hill back wards… then over… then into the ferns . Well that was a whole lot of stupid! No damage done however and got er on the second run.

At the top. A much needed brake and a realization that a lack of water and complete exhaustion might be beating some of us. Thanks to the detours, we were only a third of the way through a route that we were meant to have completed and be home by now. We shared some extra water and came up with a plan to give one of us a shortcut home. Finding a risky way to get a bike around a trestle gate the boys helped our friend out, relieving him of the hours of riding the rest of us still had ahead.
Warm and fast from here quickly dried was our gear. Another gate and another detour off the main road and through some more technical single track between the trees. This is fun stuff and just like when I was a kid on my bicycle, dodging and weaving through the trees with a big smile, this is exactly what I dreamed about when I bought this bike. On to pretty wide open roads with loose sections all the way through to the power line routes. Loose and fast… There were some body parts flying off on these sections, thankfully only from the bikes. "Ditch!"
With two routes to choose from, our meet up at a big gravel junction sent half of us towards the quicker route home through Duncan towards fuel, food and the highway. The other half headed towards the other side of the island to Sooke, windy roads and unknown exits out off the mountains. Joining the group to Sooke I had a huge tank of fuel left and could ride all night if we could just avoid anymore gnarly hills. Relatively easy going, we ate each others dust to familiar territory. Logging companies however weren't done messing with us yet, making a regular bridge became an impassable gorge and the detouring continued. Not far however, as new sections were also created. Beyond that our challenge was passing through gates, with one option to throw the Tiger on its side and drag it under a low one… I requested another option, can you blame me? Zipping along to a newly constructed section, fatigue was setting in and I dreamed of food as we navigated across cheeseburger sized blast rock roads, preying that I don't dump it hard on the last leg of the ride.
On a day like today taking the last rooted slope down to the pavement felt like a real accomplishment… and a relief. I think that everybody came out of this day a stronger rider, learned something about themselves, and hopefully some things about the culture of riders that makes them awesome and days like these great. What I am saying is, I am pretty sure everyone experienced more than they bargained for, but I am sure they walked away with more than they expected as well. Like… bruises, back pain, knee injury, ripped gear, bent bike, scratched bike, broken bike, heat stroke, or basically sore all over… "But damn was that worth it! What a hell of a good time!"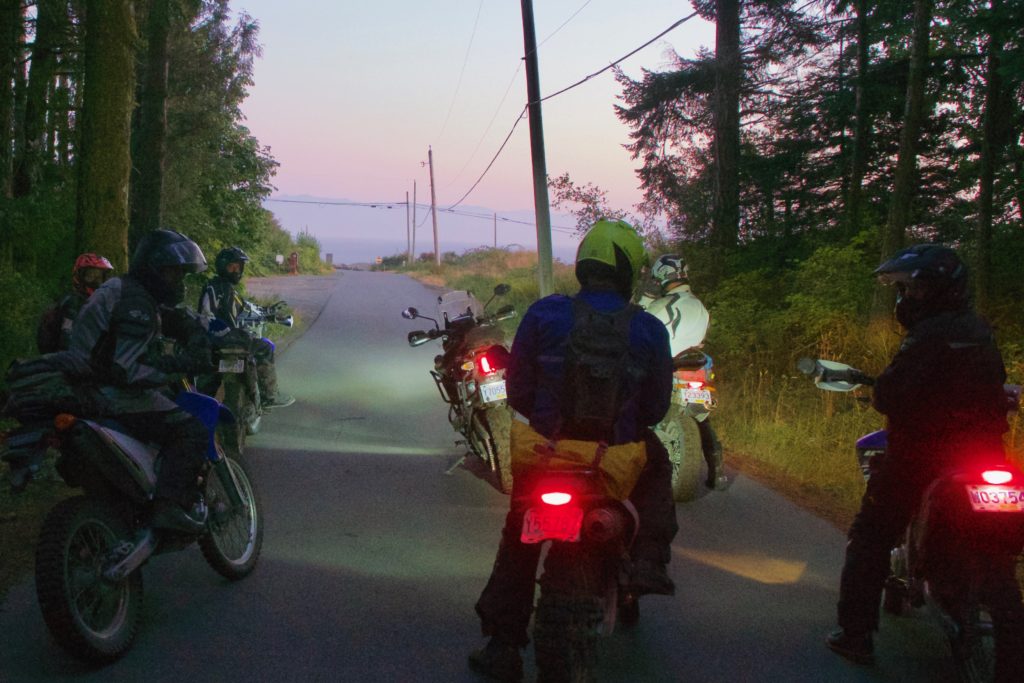 Thanks to Altrider for making the parts that are built for days like these and Barkbusters for constantly saving my hands and levers.