Bike, Trailer and Camp Shakedown
Desperate to get out there, I recently found a few midweek days to sneak away on a short camp out.
Realizing that we likely need to trim some gear, I thought the best way was to pack everything I think we need, have a short camp, and realize what we don't. Heading out on a couple hour ride to Port Renfrew on Vancouver Island, I made a late decision to get going and take the next couple days to better help understand myself, the camp set up and camera gear. Riding up the familiar coastal route I adjust my riding to account for the weight of having almost everything loaded for a two up camp trip. Gingerly throwing it into corners I begin to get comfortable again and started throwing it harder and harder into the corners trying to find the limits again.
Tearing around on the bike is our favourite way to spend a day, but it is not our only interest. The bike's purpose is also to be just a means of transportation. It has to be able to take us to do all the other things we like to do, including the needed gear. If I was a rock climber I would need my ropes, if I was an artist I might need my paints. Well, were not rock climbers…not yet, and I don't like to work with paint, so we make the space for what we do use. Having a good time while we explore on an adventure, while using the tools of photography and videography to try our best to tell stories. These are our interests, and we insist on the bike to take us everywhere. Figuring out how to fit what we use to do this is a challenge while including the needed ability to not just camp, but live wherever we want to stop for the night.
The goal is to do this for a long time, to get better at it, and to look forward to the next one. We can survive off very little, however this isn't a test of pushing yourself in an uncomfortable environment. We can handle crap quite fine when we need to. Were looking long term. Here is an example of what I mean. Your on a ride and it starts to rain. With only summer gloves and basic riding gear you fight the need to shiver and make it home hours later than you expected. It was a great hanging with some old friends, but you only survived the ride. Parts of the riding itself was total crap. No big deal, you've been through worse. You'll get home cold and wet, have a hot shower, grab a bite to eat and fall asleep on the couch. A few weeks later your buddies are going for a ride again but it looks like it gonna rain. Guaranteed your going to remember the other weekend. Your thoughts are swayed. The tough moments tend to overshadow the good times and you might think twice about going. Right there, a great experience was lost and your not doing what you love to do. Life is too short. Without a comfortable set up you will just be less likely to push to go on the next adventure, and thats what I am talking about. We want to want to go, again and again. We're searching for a balance.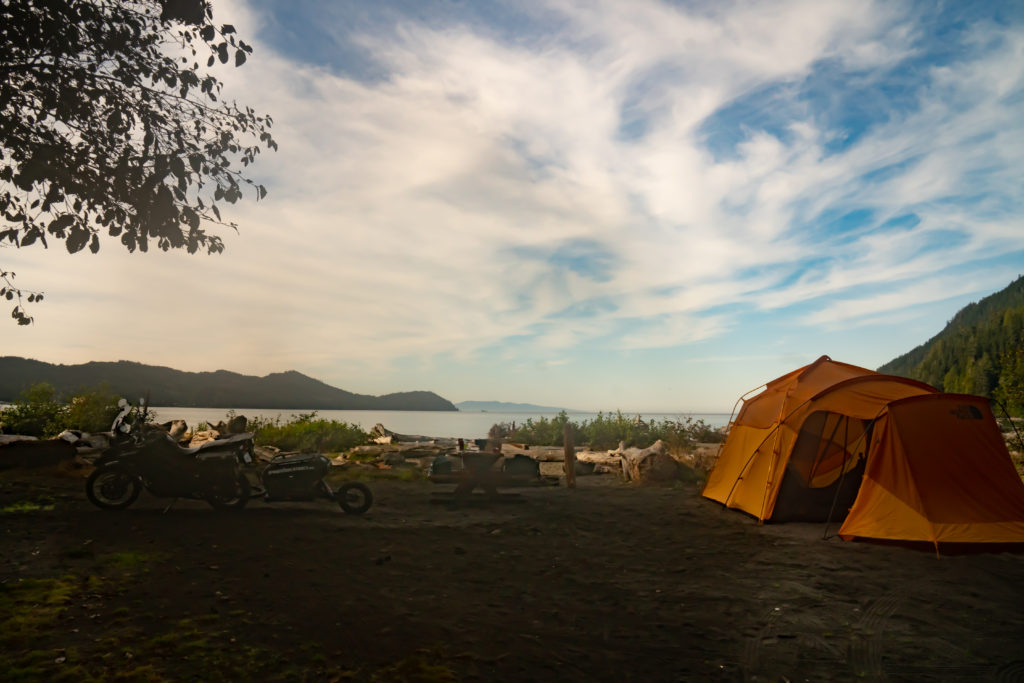 Ok… go for it! Make a comment about the stupid huge tent! While I would prefer a slightly smaller one, we have used small tents before and have found, bigger is better! This is our mobile bedroom not a small survival cave. I strongly dislike crawling around a small tent, crammed next to our gear and struggling to get dressed laying down. This tent is a fairly strong design, water tight and well ventilated. Walk in with your boots and get out of the rain, or just get changed out of your sweaty riding gear in the vestibule. Take off your boots and step into the bedroom. Store your gear to the side, away from you and the bugs outside, even hang a few things to dry out. With two people the place fills up fast with gear, but still enough room for two dudes to have a little space from each other. A bigger tent is a luxury that keeps us wanting to go and so… it stays. I would hope to find a slightly smaller one with lighter poles in the future… good thing we have a trailer.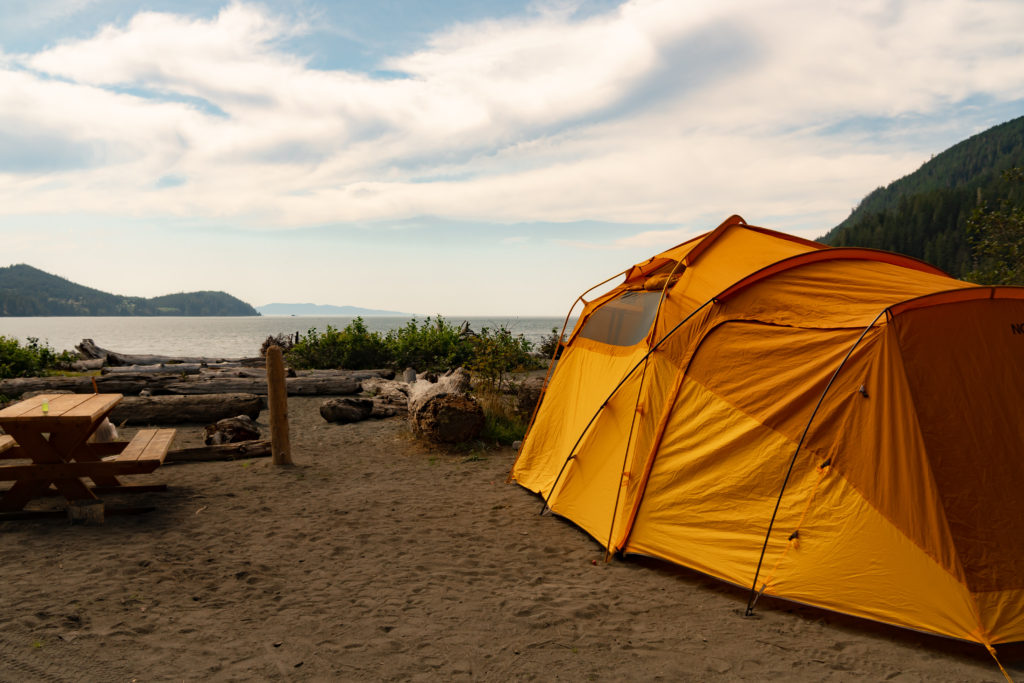 Hanging around enjoying the location and simplicity of life alone on the beach, I spent majority of my time nerding around with cameras. Currently the gear fills almost both side bags completely… Keeping the bike weight down I place stuff like light rain gear, a sweater, sleeping bag and pad in Altrider dry bags on top. Everything else goes in the trailer. Mostly an issue of volume and not weight, the trailer can fill fast. However, thats a hell of a lot of space back there and a little compression makes packing, security and accessibility easy, and thats why we love the trailer. With plenty of room for my pocket protector and bottle glasses I spend time geeking out. (JK) Experimenting with photo time lapses, the day moves by fast. Launch the drone, and generally submit to the same sickness of most bike owners. A common case of "Motolustography syndrome". I think we all take a few more photos of our rides than necessary. I'm guilty too, so you all can just have at it, no judging here. Just a tip however, don't park the bike over into the soft sand for that nice unobstructed shot… unless its a good shot, then 20 minutes of digging and wrestling the bike out is worth it.
Really looking forward to the next one. With my little pal Aaron locked into school studies, I'll have to be riding on without him for a little bit. Taking on a great invite from Trailtail Moto Trailers, I'll be visiting their shop again to build a few more things for the bike and trailer setup. Leaving for Kelowna, B.C. next week. Then, taking a dream invite from a good buddy, I will be continuing on to Kamloops. Meeting up and joining him on his first bike (Royal Enfield Himalayan) and his first road trip ever! Through the mountains to the costal town of Bella Coola. Should be about a week of camping, and a guest suite in town, with a couple days of local exploration. The temperatures are dropping fast and the weather might be crap but I've waited 10 years for a ride like this with him. Its a journey no matter what happens. Should be epic, can't wait!