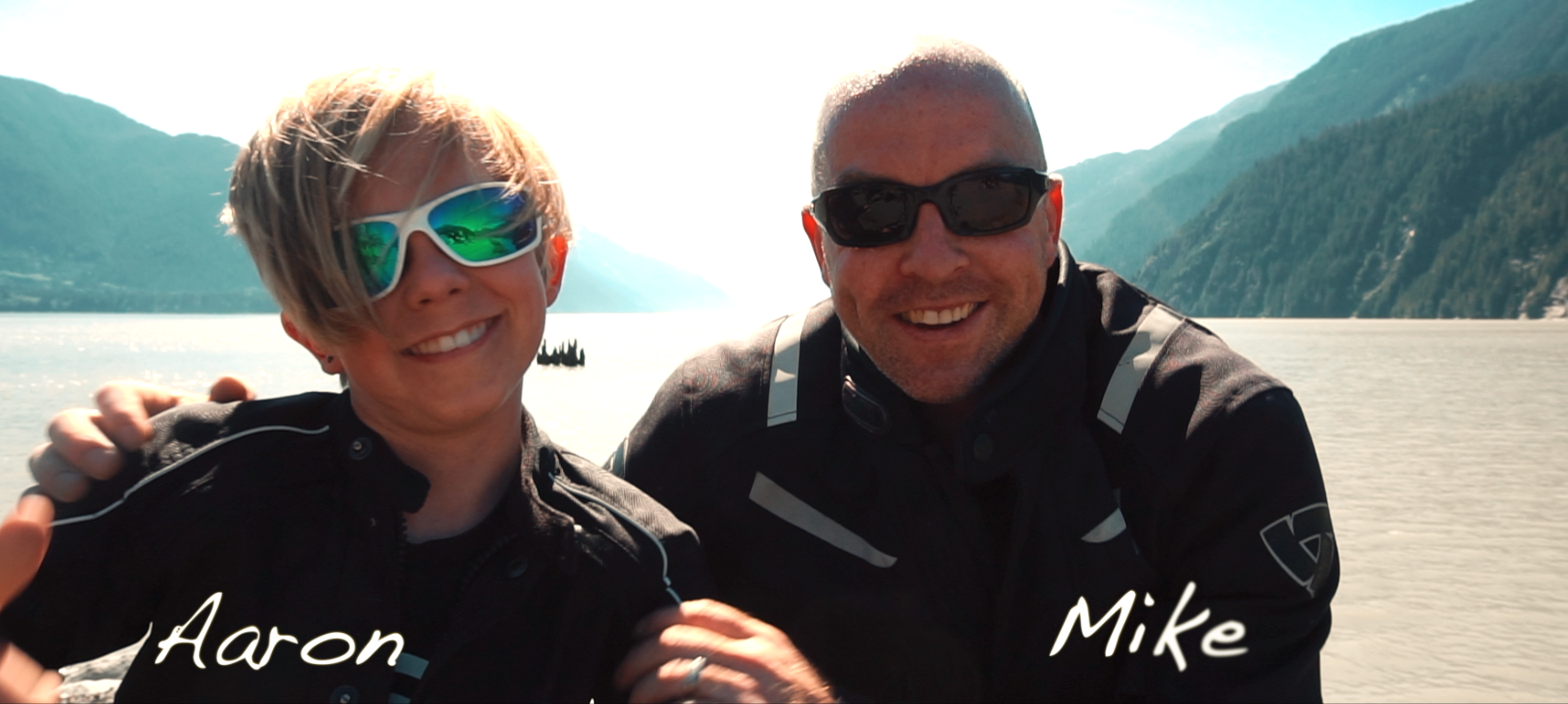 To expose the world to all things awesome... and do it on a motorcycle.
Our ultimate goal is to finish what we started.  Develop the small show we created into something more.  Fun, educational and entertaining stories suitable for all ages and walks of life. Naturally, all on the back of a motorcycle.
Personally, getting better at telling stories is a constant goal. Writing stories and using photography is an alternate project that has been growing. This driven by the same goals. I would enjoy Aaron to become more of a part of that process, and he's taking steps already. 🙂
We aim to inspire people to explore and get themselves out there. To drop the phone/tablet/remote, and take action.
Encourage parents to get involved, and just have fun joining in activities with your kids. Make a fool of your self, It's ok. Above all else, they will love you for it.
To showcase Canada. We love our country and we want to share its interesting people and places to the world.
Riding obviously being a strong passion of ours, the other major goal is to promote motorcycling.  Get the interest of all the non riders out there and show them what their missing. Let them see that they can do it too.  Expose people to the modern motorcycle culture, and the variety of riders out there. These are good people. Help them open their eyes and see what a great experience it is traveling on two wheels.  This is good for everyone, as well as the motorcycle industry.
Loaded with ideas but not loaded with funding, we will fight through the challenges as we reach for our goals.
I am a married father of 3 with Aaron being the oldest at 13.  We live in Victoria B.C. A place that was made for motorcycles.  Currently I am a small business owner, an independent contractor. I grew up around video production, as my father was a professional videographer his entire professional life. I also worked as a freelance camera man for many years. I am happily married to a rare and fantastic wife. I love kids, always wanted them and feel very grateful that I have 3 wonderful little people to spend my life with. I have lived in B.C. my whole life and have never had the opportunity to travel very much out of it. I hope to change that.
Aaron... Aaron was born in Langley B.C.. He has always had a personality that was geared to make people smile. He is a good student, but mainly a dreamer. His interests are mainly artistic in nature. Not a very sporty kid, but neither was I. He is a typical big brother, picks on his little brother and spends tons of his time playing with his little sister and making her laugh. He plays video games! Surprised? COD, yup. Not all the time, and he would happily drop the controller any day when a bike ride is on the menu.
Aaron and I have been going on exploration adventures since he was a year old. We're a team, and compelled to try and share the adventures. Through video or photos and written stories it's an effort to entertain, educate and inspire.
We dream of exploring the entire planet one day.  We are going to give it a shot and have an good time trying.